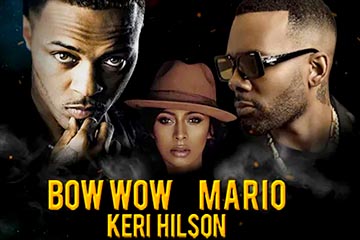 The Millennium Tour
Date: November 25, 2022
Time: 8:00 PM
Place: MGM Grand Garden Arena
Address: 3799 S Las Vegas Blvd, Las Vegas, NV 89109
Price: Starting at $85.00 and subject to change.
The Millennium Tour: Turned Up! featuring Bow Wow, Mario, Keri Hilson and more is coming to the MGM Grand Garden Arena in Las Vegas, Nevada on Friday, November 25, 2022 at 8:00 PM.
Shad Gregory Moss (born March 9, 1987), better known by his stage name Bow Wow (formerly Lil' Bow Wow), is an American rapper and actor. His career began upon being discovered by rapper Snoop Dogg in the late 1990s, eventually being brought to record producer Jermaine Dupri and signed to So So Def Recordings. As Lil' Bow Wow, he released his first album at age 13, Beware of Dog, in 2000, which was followed by Doggy Bag a year later.
The Millennium Tour on Spotify
The Millennium Tour Videos
The Millennium Tour Map