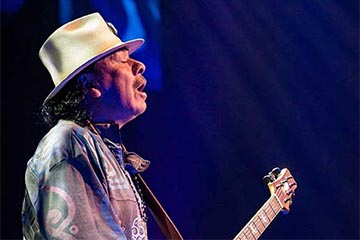 Santana
Date: May 21, 2022 - May 29, 2022
Place: House of Blues Las Vegas
Address: 3950 S Las Vegas Blvd, Las Vegas, NV 89119
Price: Starting at $66.00 and subject to change.
Santana is performing at the House of Blues in Las Vegas, Nevada on select dates between May 21-29, 2022.
Santana is an American rock band formed in San Francisco in 1966 by Mexican-American guitarist and songwriter Carlos Santana. The band has undergone multiple recording and performing line-ups in its history, with Carlos Santana the only consistent member. Santana had early success with their appearance at Woodstock in 1969 and their first three albums, Santana (1969), Abraxas (1970), and Santana III (1971). Other important core members during this period include Gregg Rolie, Michael Carabello, Michael Shrieve, David Brown, and José "Chepito" Areas, forming the "classic" line-up.
Santana is one of the best-selling groups of all time with over 47 million certified albums sold in the US, and an estimated 100 million sold worldwide. Its discography include 25 studio albums, 14 of which reached the US top 10. In 1998, the line-up of Santana, Rolie, Carabello, Shrieve, Brown, and Areas was inducted into the Rock and Roll Hall of Fame. In 2000, the band won six Grammy Awards in one night, a record tied with Michael Jackson, and three Latin Grammy Awards.
Santana on Spotify
Santana Videos
Santana Map