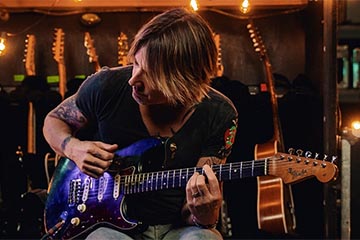 Keith Urban
Date: May 27, 2022 - May 29, 2022
Time: 8:00 PM
Place: The Colosseum at Caesars Palace
Address: 3570 S Las Vegas Blvd, Las Vegas, NV 89109
Price: Starting at $38.00 and subject to change.
Keith Urban is performing at The Colosseum at Caesars Palace in Las Vegas, Nevada on Friday-Sunday, May 27-29, 2022 at 8:00 PM.
Keith Urban is a New Zealand-born Australian musician, singer, guitarist and songwriter known for his work in country music. Recognized with four Grammy Awards, Urban is considered one of the leading exponents his music genre, also earning fifteen Academy of Country Music Awards, including the Jim Reeves International Award, thirteen CMA Awards and six ARIA Music Awards. Urban is also the songwriter and performer of the song "For You" from the film Act of Valor, which earned him nominations at both the 70th Golden Globe Awards and at the 18th Critics' Choice Awards in the respective Best Original Song categories.
Keith Urban on Spotify
Keith Urban Videos
Keith Urban Map