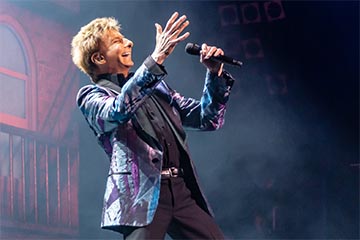 Barry Manilow
Date: May 5, 2022 - June 11, 2022
Place: Westgate Las Vegas Resort & Casino
Address: 3000 Paradise Rd, Las Vegas, NV 89109
Price: Starting at $120.00 and subject to change.
Barry Manilow is performing at the Westgate Las Vegas Resort & Casino in Las Vegas, Nevada on select dates between May 5 and June 11, 2022.
Barry Manilow is an American singer with a career that spans seven decades. His hit recordings include "Could It Be Magic", "Mandy", "I Write the Songs", "Can't Smile Without You" and "Copacabana (At the Copa)".
He has recorded and released 51 Top 40 singles on the Adult Contemporary Chart, including 13 that hit number one, 28 appeared within the top ten, and 36 in the top twenty. Manilow has released 13 platinum and six multi-platinum albums. Although not a favorite artist of music critics, Manilow has been praised by entertainers including Frank Sinatra, who was quoted in the 1970s as saying, "He's next.
Barry Manilow on Spotify
Barry Manilow Videos
Barry Manilow Map