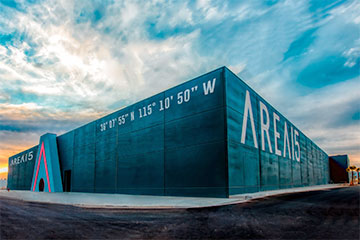 AREA15
Address: 3215 S Rancho Dr,, Las Vegas, NV 89102
Website:
AREA15
Phone:
(702) 846-1900
Upcoming Events:
Events Calendar
Social Media Profiles:




AREA15 is an immersive playground, all rolled into a vast and vibrant space. Welcome to the future of food, drinks, art, events, and entertainment. Throw an axe, fly a simulator, wander through a bamboo volcano, play the arcade, race on a zip line, experience psychodelic art, or explore other mesmerizing realms. From the futuristic to the thrill-seeking, there's an experience for everyone. Escape the confines of space and time and become part of the art, the music, and the celebration.
Area15 is located one mile west of the Las Vegas Strip, beside Interstate 15.
Hours
Mon: 12:00 PM – 01:00 AM
Tue: 12:00 PM – 12:00 AM
Wed: 12:00 PM – 12:00 AM
Thu: 12:00 PM – 12:00 AM
Fri: 12:00 PM – 02:00 AM
Sat: 10:00 AM – 02:00 AM
Sun: 10:00 AM – 12:00 AM
Pricing and Ages
Entry Passes are required for all guests visiting AREA15.
Daytime entry into AREA15 is free. All ages are welcome before 10 PM.
After 10 PM, entry is $15 and visitors must be 21 years or older to enter.
You can save $5 on late-night entry by securing an entry pass before you arrive.
Parking
Parking is available on-site and free.
---
AREA15 Videos
---
AREA15 Map
Published Date: February 22, 2022
Last Modified Date: February 22, 2022